Welcome to The Dinner Singer. Tod Woodward is a wedding singer and DJ based in Perth Western Australia. With many years experience in live music, Tod offers a unique combination of a live acoustic performance followed by a DJ service for later in the evening, making your decision for wedding entertainment an easy, affordable all in one experience.
Music can make or break the feel of a wedding, and with countless testimonials from past clients and the top award for best live act from the Australian Bridal Industry Academy (ABIA) for the past 6 years in a row, The Dinner Singer is a very safe choice for a wedding singer and wedding DJ in Perth.
Tod Woodward is a highly experienced musician and performer. Having played for 15 years in the Perth music scene in various bands, Tod excels as a solo acoustic performer with strong lead vocals and intricate, percussive and melodic guitar skills. Tod also DJ's and has had over 10 years experience reading wedding audiences. Which is the main skillset needed for a successful night on the dance floor.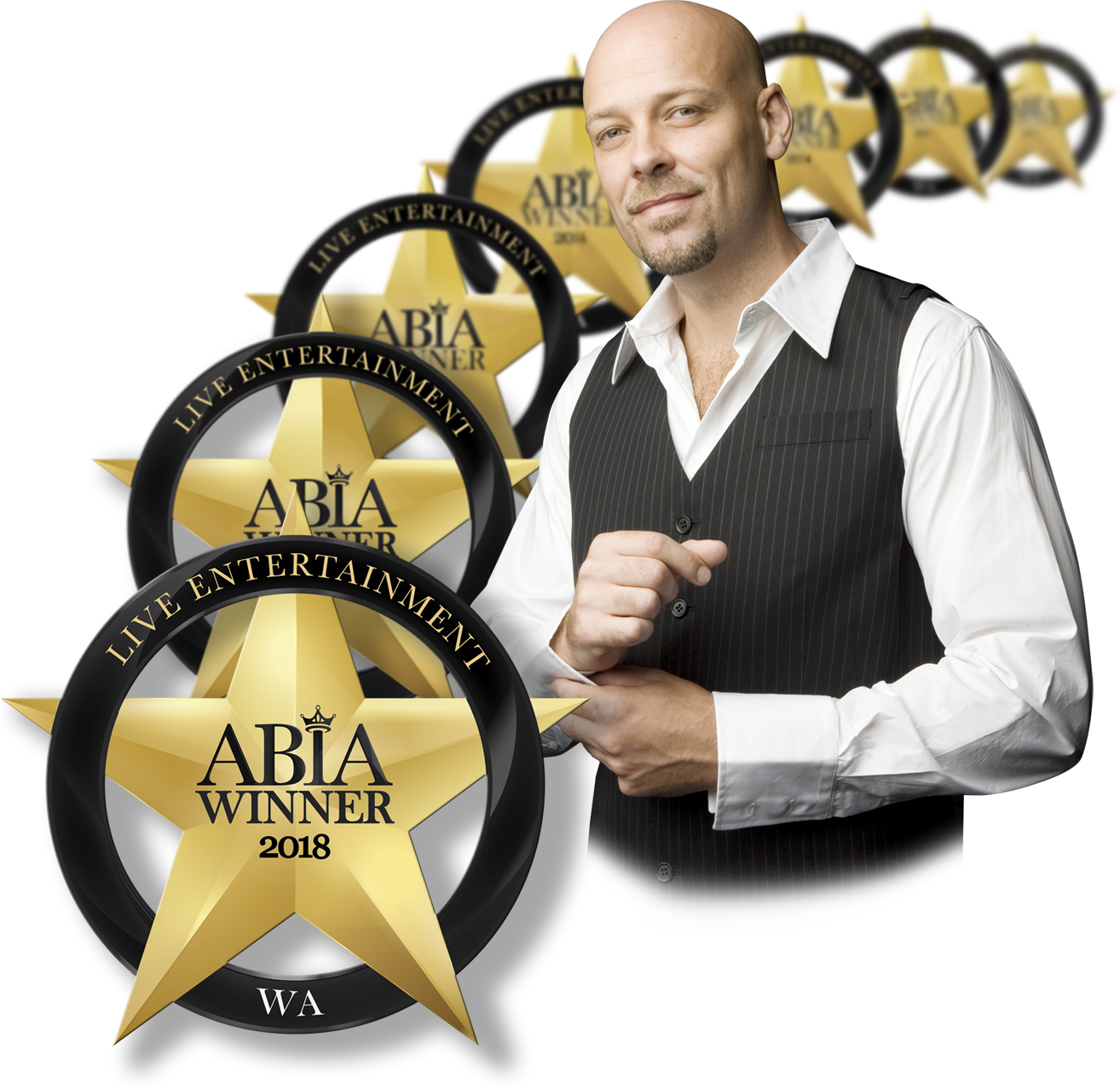 Evening Package
NO GST!
$1790
Acoustic Sets + DJ Service
Tailor your evening to a mix of live and DJ. Your choice. Tod is there all night so whatever suits you suits him. You can even decide on the night. Unlimited live acoustic sets. Followed by Tod DJing for the rest of the night and will liaise with you for any musical requirements or requests. Includes wireless mic for speeches. Performer and dance-floor lighting. (No GST charged)
Book Now!
Ceremony & Evening
NO GST!
$2290
Live Ceremony & Reception + DJ Service
This is the full sh'bang. You get a live performance for the ceremony. Choose up to 4 songs. Processional. Signing. Recessional. Plus post ceremony tunes. You also get the full reception package. A tailored mix of Live and DJ. Your choice as to how much of each you want. Tod will liaise with you re DJ songs required. He will cover funny audio clips for speech walks and any musical requests you have. Once the live acoustic ends, the party begins. (No GST charged)
Book Now!
Acoustic Package
NO GST!
$790
Simply Acoustic
3 hours of live acoustic music. Tod will serenade your guests by warming them up with some ambient acoustic tunes to begin with. As the night progresses, he will lift the tempo with some more up beat tunes and get your guests ready to dance the night away with your selected DJ. A wireless mic is included in this package to cover speeches in your DJ's absence or if the venue doesn't have a mic. (No GST charged)
Book Now!
Playing popular songs from almost all genres from artists such as Jack Johnson, John Mayer, Bruno Mars, Eric Clapton, James Taylor, John Butler, Ed Sheeran, Van Morrison, Tracey Chapman, Crowded House, Bob Marley, Robin Thicke, Eminem, Michael Buble – the list goes on. Tod's repertoire combines Pop, Rock, R&B, Jazz, Soul, Funk, Blues, Country, Rap, Singer Songwriter, Folk, Contemporary Pop and Reggae. The idea of his vast repertoire is to attempt to find the core of the audience and please the listener. Pages of testimonials from past clients, plus multiple first place awards in the Wedding Industry are a guarantee that your money is well spent for the most significant day of your life.
Impeccable guitar skills. An unsurpassed vocal smoothness that rivals the artists he covers. A classy, professional first rate act to add a touch of style you deserve for the single most important day of your life. A mix of live and DJ to tailor to your weddings needs. If you're having a full reception and you want 3 hours live and 3 hours DJ – no problem. If you want 5 hours live and just 1 hour DJ – no problem. In fact you can choose whatever combination you like and it will not affect the price. Choose the wedding singer people will remember for all the right reasons.