Wedding DJ – What to look for
Your reception will be subliminally orchestrated by the music. Just as you don't really notice the music in a movie, without it, the whole thing would be simply boring. The same is to be said for wedding music. Choosing the right DJ can make your wedding instead of breaking it. Here's what to look for when making that decision.
PRESENTATION
Being a DJ is synonymous with cool. But don't take it for granted. You don't want someone turning up who thinks they are cool but they are caught in a time vortex and turn up looking like Boy George. Make sure they are dress appropriate for a wedding by checking out their pics. You also want to make sure their equipment looks presentable and they are neat and tidy, with up-to-date equipment. Some are messy and some are clean. You can usually tell which is which by the way they handle their cables. Choose one who has some attention to details and knows how to set up in a presentable way.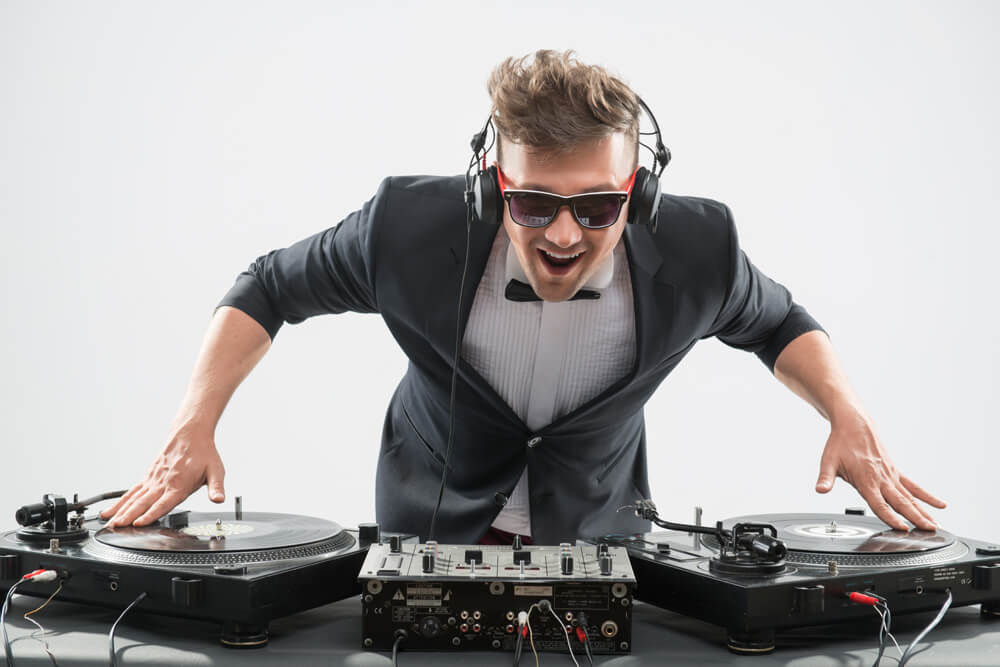 PROFESSIONALISM
Wedding DJ's are paid quite well so being professional and respecting that pay-cheque is a must for any wedding supplier. It's quite easy to get a feel for this even on email. If your wedding DJ is prompt with their replies, friendly and eager to please on the phone, then this is a good sign that they will deliver. A 'nothing is too difficult' approach to song requests is also a positive sign. Different clients have different requests. Some clients are happy to just choose a couple of songs for first dance or cake cutting, while others request a long list of songs from their guests or from their own taste. It is preferable for a DJ to have creative license but they also need to be aware and accommodating to multiple song requests.
Tip – A good DJ will know that a lot of the requested songs may not work on the dancefloor so they will request from you the discretion to override that and use something they know will keep the vibe up.
THEY ARE APPROACHABLE
Having a snobby DJ with a serious 'don't approach me' face can sometimes get people offside. So a friendly and happy looking person behind the console can make guests feel comfortable to approach if they have requests.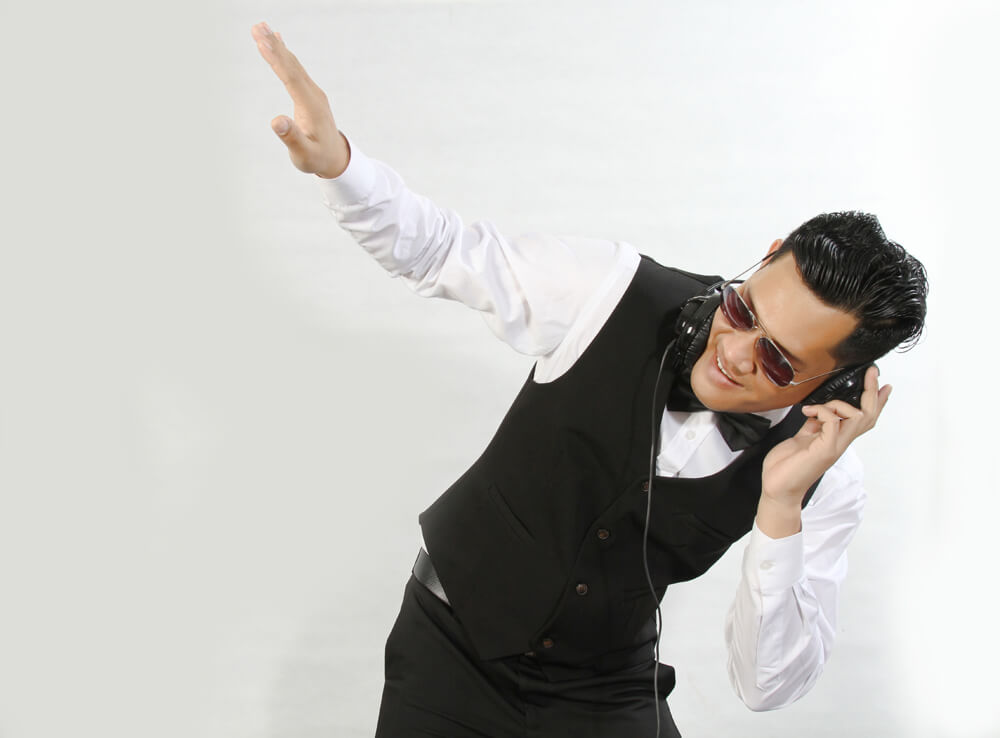 READING THE ROOM
This one is probably the most essential. Some people have large egos and if they are in charge of the music, you may be in for a lucky dip. These people will play whatever is cool in their mind, which may not be cool in yours, or your guests. Reading the room may not seem like it, but it's a skill. It's not as easy as it looks and when you are trying to please all ages with music, you are not going to. So your DJ must have the ability to play a little bit of everything during the evening to please these tastes. As a general rule for me as a DJ in Perth, I will generally start with some up tempo 60's music. Early in the night and particularly after the first dance, almost everyone is on the d-floor. So to start with some heavy hip-hop may not be the best idea because you will lose anyone over 40.
The 60's was a light hearted, fun and energetic era which seems to strike a chord with all ages. Now this will work for only so long, so it's important to read the crowd and gauge the age of everyone that is left. Usually moving onto 80's music which seems to have the same effect on most ages. Playing this early also gives the more mature guests a chance to dance before they sink into a chair and enjoy a chat with a glass of red. From here on in I base it on age and just do the math. What were these people listening to as teenagers? This is a good formula and tends to work pretty well. All weddings are different and a DJ will never please everyone, but as long as we connect with most people, our job is done. Sometimes if I can feel it's not working well, I will ask someone on the dancefloor what music their friends like. This can also help.
Just as a good DJ will know what to play on the dancefloor, they should know what to play for speeches and 'dead air'. Sometimes a client will choose songs for speeches and sometimes not. When they don't, I think it's important to have generic and humorous songs, (or snippets), for the walk of the speaker from their seat to the lectern. This eradicates that awkward dead air and can give a little comic relief to the audience. For example I always play Darth Vader's Imperial March for the father of the bride. It never fails to get a laugh.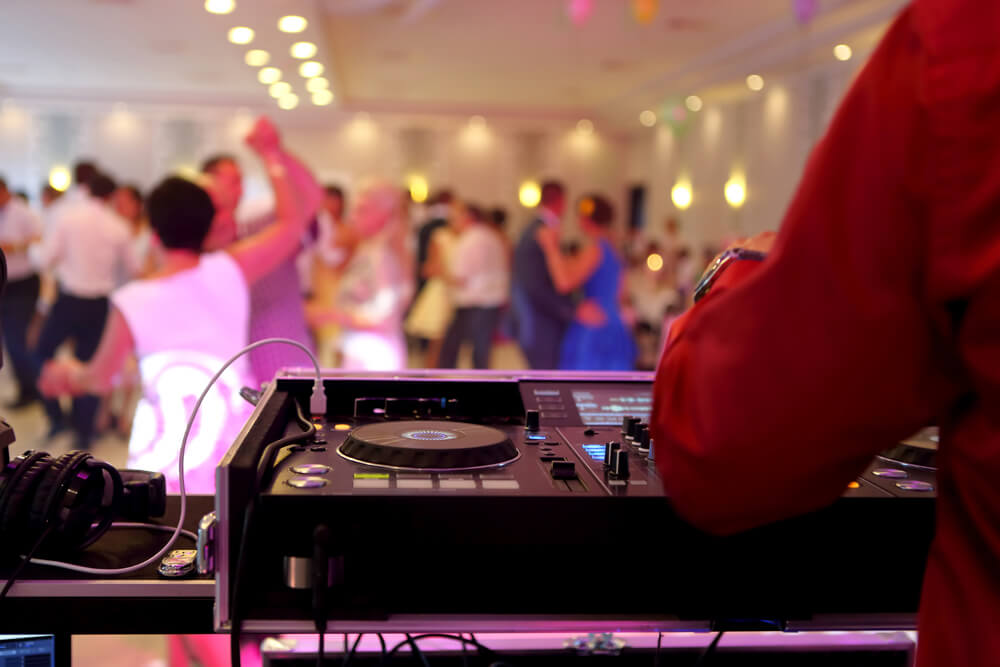 KNOWING WHEN TO TONE IT DOWN
A wedding reception goes for quite a long time so it's important for your DJ to be aware of some light and shade. Music is great but at certain times needs to be ambient and give people a little space from it. Such as when people are eating. A good DJ will instinctively know when to lower the volume and what kind of background music will suit. He will know that it's not about him, it's about them, and the atmosphere to create. If people look like they are leaning in to speak to the person next to them, it's time to turn down.
CUSTOMIZING TO SUIT
Every client will have different musical requirements. One size does not fit all and it is important for your DJ to know what your tastes are. While one couple might love R&B and Rap, another might enjoy Pop and Country. A good DJ will listen carefully to what you require and will make notes. I for one have many weddings in a row and can forget which client wanted what kind of music. So I will make sure I write everything down. I source the music a few days prior to the weddings so they are fresh in my mind and I make playlists to go with my notes. This is a fail-safe recipe for a successful night. I will also print out emails if I have not personally met with the client to ensure I haven't missed anything. With the resources today on the internet, it is possible to source almost any song, so a patient and organized DJ is a good DJ.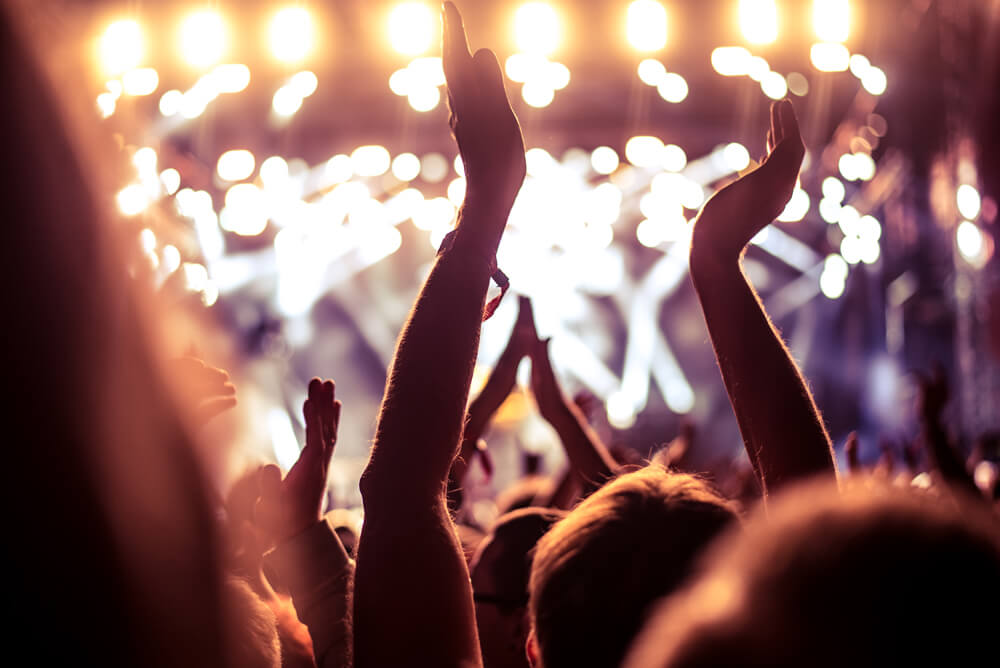 A LOVE FOR THEIR JOB
It shouldn't matter how many weddings a DJ has done, they should always try to enjoy what they are doing and realize that although this is just another night for them, it is the happiest time of someone else's life. Someone else that is paying good money for you to play music. A great DJ will be memorable not only because of the great music, but because of the level of enthusiasm they have for what they do.
Take time in considering who you will choose to DJ your wedding reception. Some DJ's are musicians, like myself, and provide a live portion of the evening, usually early on over meals, and switch into DJing for later on when the mood turns to a party. Either way, my advice would be to choose someone with experience and a normal ego, not a large one. This way you will know that they will be doing the right thing by you and have your best interests at heart. Good luck!